Viva Voce! Viva Voz! is a work memory playing homage to the mediteraneen culture.Beliefs, myths, legends,customs and habits  are the topics wich inspire this performance with poetic savor videographic and vocal.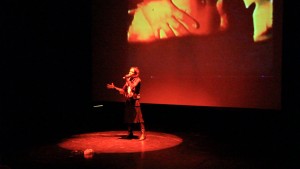 Viva Voce ! Viva Voz ! est une œuvre inspirée de la culture méditéranéene . Croyances, mythes, légendes,us et coutumes  sont les thèmes qui inspirent cette performance à saveur poétique, vidéographique et vocale.
Zazalie Z. explores vocal art and experimental voice combining traditional sounds, contemporary and avant-garde music.Z. explore l'art vocal, joue sur les cordes de l'expérimental et navigue entre les musiques actuelle, traditionnelle et d'avant-garde.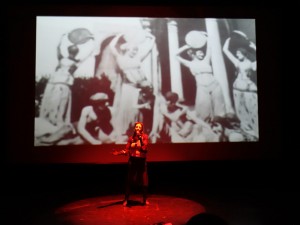 25e Anniversaire Centre d'Artiste Vaste et Vague, Quai des Arts, Carleton
Foto: Édith Jolicoeur et Marie Nowak