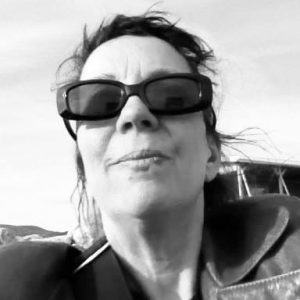 Zazalie Zaz  (Nathalie Dion) Participe sportivement à la vie culturelle depuis 30 ans. Elle explore l'art vocal, joue sur les cordes de l'expérimental et navigue entre les musiques actuelle, traditionnelle et d'avant-garde. Chanteuse, performeuse, elle présente ses vidéos et sa poésie sonore dans divers festivals ; ici et à l'étranger. Ces dernières créations, Sacred Spirit , Viva Voce! Viva Voz! et Zig Zag Z. ont surtout été présentés en Espagne et en Italie notamment au Festival InterAzioni à Cagliari, au Festival Espacio Enter à Santa Cruz de Tenerife , Art Tech Media – Cordoba, Festival Digital Media et Observatori à Valencia, LEM Festival à Barcelona, NAISA Sound Play & DeepWireless Festival à Toronto, FIMU (Trois- Rivières),  Festival HTMlles  et  FVA – Festival Voix D'Amérique à Montreal.
Zazalie Zaz (Nathalie Dion) has participated actively in cultural life for the last 30 years. She explores vocal art, play with experimental chords, and rides the waves of contemporary, folk and avant-garde music. As a singer and performer, she has presented her videos and her sound poetry at various festivals, in Canada and abroad. Her latest creations, Sacred Spirit, Viva Voce ! Viva Voz ! and Zig Zag Z., have been performed in Spain, Italy and Canada at events such as the InterAzioni Festival in Cagliari, Espacio Enter Canarias Festival in Santa Cruz de Tenerife, Art Tech Media – Cordoba, Digital Media and Observatori Festival in Valencia, LEM Festival in Barcelona, NAISA Sound Play & DeepWireless Festival in Toronto, FIMU (Trois-Rivières) HTMlles and Festival Voix D'Amérique (FVA) in Montreal.
Live Yodel EA OH-  Here is the Link to listen my performance 4:00 @ 20:00   Radio Wave Farm Acra NY
NAISA- MAKING- WAVES- YODEL EA OH – 2014/06/14  Producers : Darren  Copeland, Eldad Tsabary & Regynald Guzman  Darren's WGXC@WaveFarn Acra NY Edit: Yodel in HIFI NAISA

 
http://rhizome.org/community/22532/
Wreck This Mess ~ Amsterdam ~ Ethno-Illogical Psycho-Radiographies ~24.09.14
Global sound artists + vocalists interacted with [long distance communication] yodels from Yodel in Hi Fi, creating cross-cultural links. Remix of 3 May 6-hr international internet jam-cast via Toronto's NAISA studios during Deep Wireless Festival. Amsterdam, Toronto, Argentina, Paris, Washington, Sweden, New Brunswick, British Columbia, Jersey City, Spain, Hong Kong, Corfu, CAR, Utrecht, Montreal, South Africa, Norway, Finland, UK, Berlin, Switzerland, Vienna, New Guinea, NY.  Artists: Andreas Monopolis [MoCM], Black Sifichi, Girilal Baars, Polsick, Adam Tindale, d0kt0r0 , Marc Sloan & Maggie Ens, Scot Bullick, Biting Eye, James Bailey, Liz Pieries & fourthousandblackbirds & Eric Boivin, Zazalie Z, Kutzkelina, Danibal, Paul Dutton.
OH NO YO -Wreck Yodel-EA_OH Telematic 1177 by Wreckthismess
He's at it again – another YODEL MIX, this one a global jam-broadcast including such stalwarts as Daniel Hentschel, Black Sifichi, Anna Nacher, Marc Sloan, Shelley Hirsch, Jodelschule Kreuzberg, Lee Scratch Perry (official), Sly Stone, Meredith Monk, Johnny Weissmuller, Eldad Tsabary, Darren Copeland, Pablo Anglade, David Ogborn, Benjamin Bridges, James Bailey, Eric Boivin, Zazalie Zaz, Paul Dutton, Lynn Book, Bernhard Betschart, Christine Lauterburg, Christina Zurbrügg
Wreck Yodel-EA_OH Telematic 1177 by Wreckthismess     #42: Experimental Voz by Zazalie Z.»***
https://www.mixcloud.com/wreckthismess/wreck-yodel-ea-oh-telematic-mix/
WRECK THIS MESS ON WFMU – JUNE 10 2016
Wreck This Mess participates in the week-long OPTIMIZED festival on WFMU on June 10, 12:30 PM, during lunch [18.30 euro time] … featuring Mij the Yodeling Astrologer, Gene Krupa & Bill Black, Barbara Hannigan, Girilal Baars, Katsuhiko Haida, Han Bennink, Meredith Monk, Zazalie Zaz, Jackie Misfit, Christine Lauterburg, Alvin Curran, TR Kelley, Anna Nacher [Magic Carpathians Project], Fatima Miranda, Shelley Hirsch, Coldcut, The Kaluli of Bosavi, Sainkho, Erika Stucky, Bo Diddley, Miriam Makeba, Phil Minton, Kutzkelina Jodelschule Kreuzberg & more
(Listen: Pop‑up) KliK here for listen  WFMU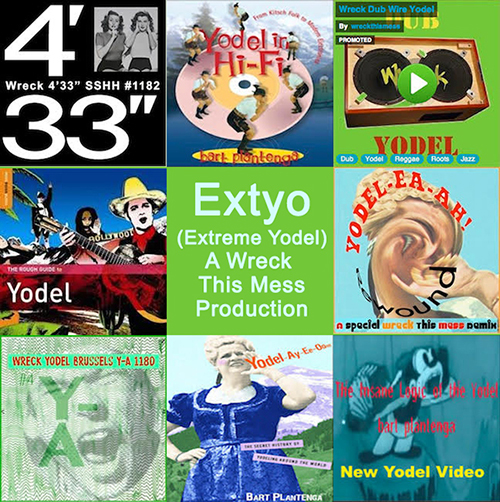 Mockin' Bird Hill [reverse] > Ronnie Ronalde
Grok Martian Love Call > Mij Yodeling Astrologer
Swiss Lullaby in/outro > Gene Krupa, Dolores Hawkins & Bill Black
In The Alps > Barbara Hannigan & Nederlands Blazers Ensemble
Call of the Lonesome Quarkboy > Girilal Baars
Ranch in the Alps [Alpsno Makiba] > Katsuhiko Haida
Cheese Kit Diptych > Han Bennink
Owl > Meredith Monk
Kawaïmusikbox > Zazalie Zaz
Kundi La Mapendo > Jackie Misfit
Fluht Loop > Christina Zurbrügg
Albino Chraie > Christine Lauterburg
I Dreamt I Yodeled I Remixed > Alvin Curran
Shades Of Grey > TR Kelly
Angelica Silvestris > Anna Nacher [Magic Carpathians Project]
Ledoj Express > Christine Lauterburg
Sobre Saltos > Fatima Miranda
Cuckoo in the Wood > Minna Reverelli
Haiku Lingo > Shelley Hirsch
Stop This Crazy Thing > Coldcut
Frohmatt Jodel > Anonymous
Yakut Song > Lioudmila Khandi
Nils Juhán > Johan Anders Baer
Shawnee Stomp Dance > Shawnee Tribe
Whoa Buck > C.B. '88' Cook
Intro Pygmé > Dobet Gnahore
Cutting Trees for a Garden > The Kaluli of Bosavi
Inuit Wedding > Sainkho
Stueckisch > Erika Stucky
The Great Grandfather > Bo Diddley
Ihoyiya > Miriam Makeba
John Cage's Mesostics > Phil Minton
Balkanization > Neil B. Rolnick
Lullaby > Kutzkelina
WRECK 1195 In Search of Lost Yodels
 How did I forget to include Bo Diddley, Tom Waits, Eric Burdon, Jacques Dutronc, Gene Krupa Orchestra, Dillinger in my 2 yodel books? This is my mea culpa, my penance, my sorry peeps… Forgetting is a way to humility, & one of the hazards of comprehensive-completism. Profit now from my atonement.Also: Dubblestandart vs Marcia Griffiths vs Alpendub + YOUYOUYOU + Zazalie Zaz + Devotchka + Cafe Tacvba Neanderthals + Zorah Mari Bauer + Alan Kaufman + Spiff Wiegand + Girilal Baars + Tjens Couter / TC Matic+ Bel Canto + Bob Holroyd + Alela Diane…
MMXVII- Breaking the waves with Maldoror by Zazalie Z.  (Mp3)  Duration: 10:30
http://alandunn67.co.uk/breaking.html
Breaking the Sound Barrier No.8

– 

Parcours à travers l'oeuvre de Lautréamont « Les Chants de Maldoror» 
KONTAK: zazaliez@gmail.com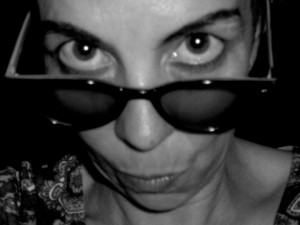 Muses:ClaraMurtas+DiamandaGallas+ShelleyHirsh+SainkhoNamchilak+SussanDeyhim+YmaSumac+Nico+Sachkiko+NonCredo+AnnaHomler+MeredithMonk+MiriamMakeba+Bjork+TanyaTagaq+AynurDogan+LaurieAnderson+ChavelaVargas+OumKalthoum+Barbara+Piaf+Dalida+CatherineRinger+BrigitteFontaine+JeanneMoreau+PaulineJulien+DianeDufresne+AnaMendieta+FridaKahlo+GuerillaGirls+YokoOno+Tenko+MarinaAbramovic+NikkiStPhale+KatheKollwitch+PipillotiRist+CheikaRimitti+NinaHagen+LeneLovitch+IvaBittova+PJHarvey+AmyWinehouse+AlanisObomsawin+BillieHolliday+NinaSimone+ErthaKitt+MariaCallas+CamilleClaudel+LaCaita(Kaita)…
Inspiration:Johan Van DerKeuken « L'Oeil au dessus du puits»+ Sergei Eisenstein «Que Viva Mexico!»+ Antonin Artaud chez les Tarahumaras+ Vittorio De Seta +Alan Lomax+Ernesto De Martino+ Clara Gallini+ Clara Murtas+Ennio Morricone «De sa terra a su xelu» Alanis Obomsawin+Arthur Lamothe…