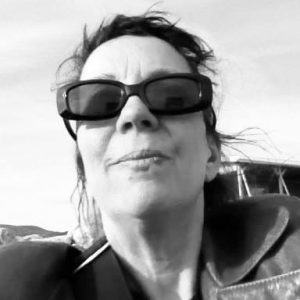 Zazalie Zaz  (Nathalie Dion) Participe sportivement à la vie culturelle depuis 30 ans. Elle explore l'art vocal, joue sur les cordes de l'expérimental et navigue entre les musiques actuelle, traditionnelle et d'avant-garde. Chanteuse, performeuse, elle présente ses vidéos et sa poésie sonore dans divers festivals ; ici et à l'étranger. Ces dernières créations, Sacred Spirit , Viva Voce! Viva Voz! et Zig Zag Z. ont surtout été présentés en Espagne et en Italie notamment au Festival InterAzioni à Cagliari, au Festival Espacio Enter à Santa Cruz de Tenerife , Art Tech Media – Cordoba, Festival Digital Media et Observatori à Valencia, LEM Festival à Barcelona, NAISA Sound Play & DeepWireless Festival à Toronto, FIMU (Trois- Rivières),  Festival HTMlles  et  FVA – Festival Voix D'Amérique à Montreal.
Zazalie Zaz (Nathalie Dion) has participated actively in cultural life for the last 30 years. She explores vocal art, play with experimental chords, and rides the waves of contemporary, folk and avant-garde music. As a singer and performer, she has presented her videos and her sound poetry at various festivals, in Canada and abroad. Her latest creations, Sacred Spirit, Viva Voce ! Viva Voz ! and Zig Zag Z., have been performed in Spain, Italy and Canada at events such as the InterAzioni Festival in Cagliari, Espacio Enter Canarias Festival in Santa Cruz de Tenerife, Art Tech Media – Cordoba, Digital Media and Observatori Festival in Valencia, LEM Festival in Barcelona, NAISA Sound Play & DeepWireless Festival in Toronto, FIMU (Trois-Rivières) HTMlles and Festival Voix D'Amérique (FVA) in Montreal.
Live Yodel EA OH-  Here is the Link to listen my performance 4:00 @ 20:00   Radio Wave Farm Acra NY
NAISA- MAKING- WAVES- YODEL EA OH – 2014/06/14  Producers : Darren  Copeland, Eldad Tsabary & Regynald Guzman  Darren's WGXC@WaveFarn Acra NY Edit: Yodel in HIFI NAISA

 
http://rhizome.org/community/22532/
Wreck This Mess ~ Amsterdam ~ Ethno-Illogical Psycho-Radiographies ~24.09.14
Global sound artists + vocalists interacted with [long distance communication] yodels from Yodel in Hi Fi, creating cross-cultural links. Remix of 3 May 6-hr international internet jam-cast via Toronto's NAISA studios during Deep Wireless Festival. Amsterdam, Toronto, Argentina, Paris, Washington, Sweden, New Brunswick, British Columbia, Jersey City, Spain, Hong Kong, Corfu, CAR, Utrecht, Montreal, South Africa, Norway, Finland, UK, Berlin, Switzerland, Vienna, New Guinea, NY.  Artists: Andreas Monopolis [MoCM], Black Sifichi, Girilal Baars, Polsick, Adam Tindale, d0kt0r0 , Marc Sloan & Maggie Ens, Scot Bullick, Biting Eye, James Bailey, Liz Pieries & fourthousandblackbirds & Eric Boivin, Zazalie Z, Kutzkelina, Danibal, Paul Dutton.
OH NO YO -Wreck Yodel-EA_OH Telematic 1177 by Wreckthismess
He's at it again – another YODEL MIX, this one a global jam-broadcast including such stalwarts as Daniel Hentschel, Black Sifichi, Anna Nacher, Marc Sloan, Shelley Hirsch, Jodelschule Kreuzberg, Lee Scratch Perry (official), Sly Stone, Meredith Monk, Johnny Weissmuller, Eldad Tsabary, Darren Copeland, Pablo Anglade, David Ogborn, Benjamin Bridges, James Bailey, Eric Boivin, Zazalie Zaz, Paul Dutton, Lynn Book, Bernhard Betschart, Christine Lauterburg, Christina Zurbrügg
Wreck Yodel-EA_OH Telematic 1177 by Wreckthismess     #42: Experimental Voz by Zazalie Z.»***
https://www.mixcloud.com/wreckthismess/wreck-yodel-ea-oh-telematic-mix/
WRECK THIS MESS ON WFMU – JUNE 10 2016
Wreck This Mess participates in the week-long OPTIMIZED festival on WFMU on June 10, 12:30 PM, during lunch [18.30 euro time] … featuring Mij the Yodeling Astrologer, Gene Krupa & Bill Black, Barbara Hannigan, Girilal Baars, Katsuhiko Haida, Han Bennink, Meredith Monk, Zazalie Zaz, Jackie Misfit, Christine Lauterburg, Alvin Curran, TR Kelley, Anna Nacher [Magic Carpathians Project], Fatima Miranda, Shelley Hirsch, Coldcut, The Kaluli of Bosavi, Sainkho, Erika Stucky, Bo Diddley, Miriam Makeba, Phil Minton, Kutzkelina Jodelschule Kreuzberg & more
(Listen: Pop‑up) KliK here for listen  WFMU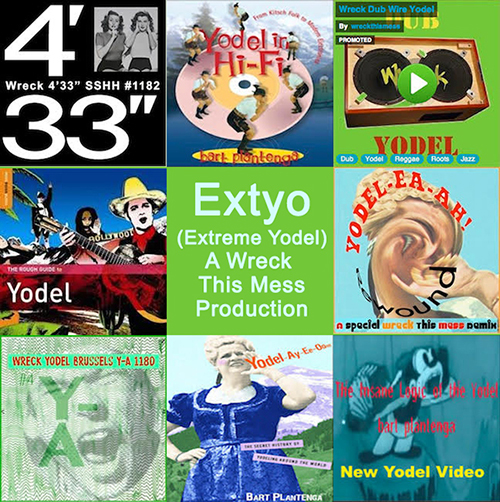 Mockin' Bird Hill [reverse] > Ronnie Ronalde
Grok Martian Love Call > Mij Yodeling Astrologer
Swiss Lullaby in/outro > Gene Krupa, Dolores Hawkins & Bill Black
In The Alps > Barbara Hannigan & Nederlands Blazers Ensemble
Call of the Lonesome Quarkboy > Girilal Baars
Ranch in the Alps [Alpsno Makiba] > Katsuhiko Haida
Cheese Kit Diptych > Han Bennink
Owl > Meredith Monk
Kawaïmusikbox > Zazalie Zaz
Kundi La Mapendo > Jackie Misfit
Fluht Loop > Christina Zurbrügg
Albino Chraie > Christine Lauterburg
I Dreamt I Yodeled I Remixed > Alvin Curran
Shades Of Grey > TR Kelly
Angelica Silvestris > Anna Nacher [Magic Carpathians Project]
Ledoj Express > Christine Lauterburg
Sobre Saltos > Fatima Miranda
Cuckoo in the Wood > Minna Reverelli
Haiku Lingo > Shelley Hirsch
Stop This Crazy Thing > Coldcut
Frohmatt Jodel > Anonymous
Yakut Song > Lioudmila Khandi
Nils Juhán > Johan Anders Baer
Shawnee Stomp Dance > Shawnee Tribe
Whoa Buck > C.B. '88' Cook
Intro Pygmé > Dobet Gnahore
Cutting Trees for a Garden > The Kaluli of Bosavi
Inuit Wedding > Sainkho
Stueckisch > Erika Stucky
The Great Grandfather > Bo Diddley
Ihoyiya > Miriam Makeba
John Cage's Mesostics > Phil Minton
Balkanization > Neil B. Rolnick
Lullaby > Kutzkelina
WRECK 1195 In Search of Lost Yodels
 How did I forget to include Bo Diddley, Tom Waits, Eric Burdon, Jacques Dutronc, Gene Krupa Orchestra, Dillinger in my 2 yodel books? This is my mea culpa, my penance, my sorry peeps… Forgetting is a way to humility, & one of the hazards of comprehensive-completism. Profit now from my atonement.Also: Dubblestandart vs Marcia Griffiths vs Alpendub + YOUYOUYOU + Zazalie Zaz + Devotchka + Cafe Tacvba Neanderthals + Zorah Mari Bauer + Alan Kaufman + Spiff Wiegand + Girilal Baars + Tjens Couter / TC Matic+ Bel Canto + Bob Holroyd + Alela Diane…
MMXVII – Breaking the waves with Maldoror – Zazalie Z. Breaking the Sound Barrier No.8
Parcours à travers l'oeuvre de Lautréamont « Les Chants de Maldoror» Chant Premier 
http://alandunn67.co.uk/breaking.html
MMXIX – X Zîles via Maldoror –  Chant Premier – Zazalie Z. 
Parcours à travers l'oeuvre de Lautréamont « Les Chants de Maldoror» Chant Premier 
Vieil Océan !aux vagues de cristal,tu ressembles proportionnellement à ces marques azurées que l'on voit sur le dos meurtri des mousses;tu es un immense bleu, appliqué sur le corps de la terre.Vieil Océan ! Tu déroules au milieu d'un sombre mystère sur toute ta surface sublime,tes vagues incomparables  avec le sentiment calme de ta puissance éternelle.Elles se suivent parallèlement, séparées par de courts intervalles. À peine l'une diminue,qu'une autre va à sa rencontre en grandissant accompagnées du bruit mélancolique de l'écumequi se fond pour nous avertir que tout est écume. Ainsi, les êtres humains, ces vagues vivantes, meurent l'un après l'autre d'une manière monotone sans laisser de bruit écumeux. L'oiseau de passage se repose sur elles avec confiance,se laisse abandonner à leurs mouvements pleins d'une grâce fière, jusqu'à ce que les os de ses ailes aient recouvré leur vigueur accoutumée pour continuer le pèlerinage aérien.Je te salue vieil océan!
MMXX Rainbow – Zazalie Zaz
Black White Light Love Shadow/ Blind Right Root Nation Right / My soul is Black White Red & Yellow/ Light Shadow my spirit follow/ The eagle flying in the sky/ Dance Dance Sundance/ Rain Dance Rainbow/ Singing in the rain Smiling with my body and brain /Rain Rainbow Sun Sundance/My soul is Black White Red & Yellow
MMXX Rainbow – Zazalie Zaz
MMXXI-  Root & Robot –  Foto: Teide Tenerife 2009 – Zazalie Zaz
Roots & Robot/ I need air water earth fire/J'ai besoin d'air d'eau de feu de terre/ Du pays d'ou je viens Je me souviens / Mémoire vive vivante, mise à la terre, ricochet de roche qui rebondit dans la rivière/ Je retrouve mon ground underground / Sur le Landscape de Stockhausen  évadé dans un paysage à 360 degré, j'écoute Helicopter String /Variation sur Violon /Sur le Landscape de Stockhausen j'écoute Helicopter String / Sillon Microsillon Sillon Microsillon/ Les libellules se syncronisent, s'harmonisent/ Sous le ciel étoilé, le disque lunaire miroite sur les panneaux solaires / Variation sur Violon Helicopter String / Entre l'infiniment grand et l'infiniment petit, je m'accorde à cette symphonie /Les mouches à feu ont pris place, éteignant les voyants lumineux des Zoom Wifi  Télé rivé sur la surface de Mars / Moment de répit de repos des tours à bureaux Root & Robot / Près du ruisseau en écho on entend le chant des oiseaux
MMXXI-  LieLadyDie- Zazalie Zaz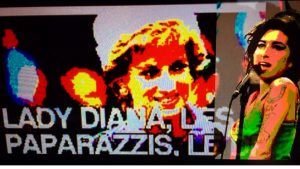 Lie Lie Lie – You follow me like Lady Di /  Crazy à la folie  Tout l'monde me suit – Paparazzi  You  follow me like Lady Di  / Big Brother watching  for me – Big Brother watching for you / Amies Ennemies Jalousie Misogynie Paparazzi   O c'est Crazy à la folie / House House House like Amy Winehouse / Lie Lie Lie like Lady Di … 
KONTAK: zazaliez@gmail.com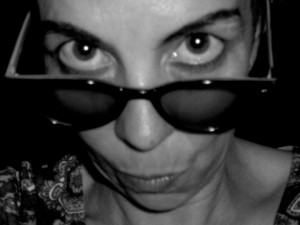 Muses:ClaraMurtas+DiamandaGallas+ShelleyHirsh+SainkhoNamchilak+SussanDeyhim+YmaSumac+Nico+Sachkiko+NonCredo+AnnaHomler+MeredithMonk+MiriamMakeba+Bjork+TanyaTagaq+AynurDogan+LaurieAnderson+ChavelaVargas+OumKalthoum+Barbara+EdithPiaf+Dalida+CatherineRinger+BrigitteFontaine+JeanneMoreau+JulietteGreco+PaulineJulien+AlysRobi+DianeDufresne+AnaMendieta+FridaKahlo+GuerillaGirls+YokoOno+Tenko+MarinaAbramovic+NikkiStPhale+KatheKollwitch+PipillotiRist+CheikaRimitti+NinaHagen+LeneLovitch+IvaBittova+PJHarvey+AmyWinehouse+AlanisObomsawin+BillieHolliday+NinaSimone+ErthaKitt+MariaCallas+Madonna+CamilleClaudel+LaCaita(Kaita) + Paquera de Jerez+ Magali Noel+Teresa Stratas + Obini Bata+ Shirin Neshat +Nadine Labaki…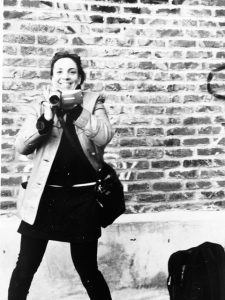 Inspiration:Johan Van DerKeuken « L'Oeil au dessus du puits»+ Sergei Eisenstein «Que Viva Mexico!»+ Antonin Artaud chez les Tarahumaras+Alanis Obomsawin+Arthur Lamothe+Vittorio De Seta +Alan Lomax+ Sur la terre du remord d'Ernesto De Martino+  La Danse de  l'Argia de Clara Gallini+ Clara Murtas+Ennio Morricone «De sa terra a su xelu» +   Sante& Sciame de Clara Murtas+ Divine Utterances: The Performance of Afro‐Cuban Santeria. Katherine J. Hagedorn + L'Afrique à Cuba- La regla de osha : Culte ou religion de Ndèye Anna Gaye Fall , Los Orishas En Cuba de Natalia Bolivar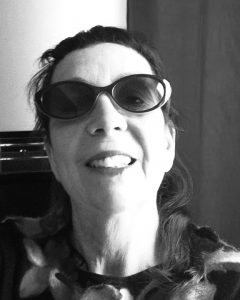 Coup de coeur cinématographique: Tout les Pedro Almodovar+Federico Fellini_Alejandro Gonzalez Inarritu+Jim Jarmush+Wim Wenders+Jim Jarmush+ Wong Kar Wai + Wes Anderson+RoyAndersson+
Zhang Yimou+Leos Carax+Denis Villeneuve+Jean Marc Vallée+Nadine Labaki+ Samira Makmalbaf+Jane Campion+Xavier Dolan+Fernando Arrabal+Bunuel+François Girard «Thirty Two Short Films About Glen Gould+Agnes Varda+Femme(s) de Yann Arthus-Bertrand+ Anastasia Mikova+Rabbit Proof Fence de Phillip Noyce+ The Stoning of Soraya M. de Cyrus Nowrasteh+ Les Cerfs-volants de Kaboul de Marc Forster+ La vie est belle de Roberto Benigni+Monica la Mitraille de Pierre Houle +Soleil vert (Soylent Green)  de Richard Fleischer +Fahrenheit 451  de François Truffaut +Thelma et Louise de Ridley Scott+
Livres:  Marguerite Duras de Laure Adler+ Femmes d'Exception du XX e siècle à nos jours de Claire Champenois+ les Femmes Artistes sont Dangereuse de Laure Adler+Camille Viéville+La Puissance de la Joie de Frederic Lenoir+ Les Hasards Nécessaires de Jean François Vézina+Éloge de la lenteur de Carl Honoré+Manufacturing Consent  + Comprendre le Pouvoir de Noam Chomsky + Glenn Gould Une vie de Kevin Bazzana